Anoop Sukumaran | Jan 06, 2017 | Comments 0
On Friday Prime Minister Mr Narendra Modi has launched an app called as BHIM app. This is Bharat Interface for Money. This is UPI also known as United payments Interface. This is a simple app and in this digital payments can be taken up. It is available for Android and can be directly downloaded. This app is a good option when you have to pay money or receive money and for that you will need this online wallet. Also it is important that first you load the money before you use the money from the app.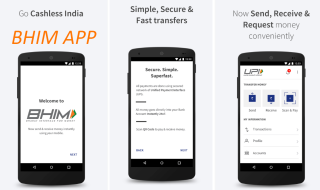 If you have a smart phone or a simple feature phone, you can use this app. All you need is just the internet connectivity. But without too this can be done! Thumb is the identity and for using this app the thumb print has to be used as the pass word. So, those who were considered as illiterate and those who cannot sign can now use the angutha or the thumb as an important tool. This app comes from NCPI and so you must get access to this app and download the same for your Android phone.
For those who have an iPhone and have been wondering that when this app will come on iPhone will have to wait for a while. This is because it is expected soon on iPhone.
 How to use BHIM app?
You must first download BHIM app and now your mobile number is the address where you can send and receive the payments. For the simple phone internet connectivity will be a problem and so for that *99# would work pretty well. Most of the banks are supporting this app and for that these are the banks that can be approached. Allahabad bank, Axis Bank, Andhra Bank, Bank of India, DCB Bank, Canara bank, Indian Bank, HDFC Bank, Indusind Bank, ICICI Bank, IFBI Bank, Karur Vysya Bank and many other banks. The maximum limit is Rs 10000 and for one day the limit is Rs 20000.
Once this bank is linked to the bank account, receiving and paying the money would be pretty easy. So, this has been a boon for those who want to use their smart phones for making and receiving the payments. It is pretty easy to download the app and so make sure that you learn the same and start using the app.
Filed Under: News
About the Author:
Comments (0)