Anoop Sukumaran | Apr 24, 2017 | Comments 0
Google has always created some or the other news and so it is a smart company. Currently, Google has come up with the new project and that is Google Hire. This is a smart thing and now it seems that Google has converted this into its own applicant tracking system. It can be briefed as ATS. This is kind of a competition for the counterparts as in Indeed, Monster, Linkedin and so on.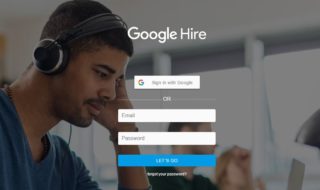 Google Hire is yet to come on the public platform. But the portal is already there and the job applications are invited. The job providers or the employers have been given access to these profiles through their Google Accounts. However, since this is just the beginning there has been doubts in the mind of people that is there anything specific that Google is going to do with the applicant's search history? If yes, then this will be a big show down and it will be a bit bad.
How will this tool function?
It seems that Google Hire will work as a recruitment tool and that the employees will send across the resumes; employers will be able to check them out and would appoint them if the job is there. Based on the experience and expertise of the employees, there would be job hire process. However, these things are not yet out. It's still a question that what kind of options are available for the job seekers.
As per one of the Google's Spokesperson, Google Hire is something where the process of application and job hiring would be quite smooth.
The G Suite users will be able to check out the applications online and most of the solutions would be sought on the web. There is a sample page folder on the portal and you can just check out the listings. At this point in time the UI looks quite simple and this portrays something like LinkedIn. Some of the market experts feel that Google is up to creating a smart applicant tracking system which will benefit both job seekers and job providers.
The question is that will Google make the information easily available to the rest of the people? Well, if such smuggling happens then it will be quite bad. But as per the past things that Google has come up with, it has never shared the private information and so this is a biggest benefit. This is a big shock for LinkedIn. So, how are things going to be post Google Hire? Well, the updates on these things are yet to come. So, just check out how Google can make things quite easy. Google would never come up with the product unless and until there is a solid plan. But these days you will see that the competitors still feel bit low due to this innovative tool. Just wait and watch what are the other updates in this field and how are things going to be.
About the Author:
Comments (0)