Anoop Sukumaran | Apr 02, 2017 | Comments 0
Usually, when we talk about batteries, the only things to come to our mind are lead, lithium and chemicals. Basically, we can think only and only of hazards. However, what if we tell you that now, you can get edible and safe batteries? Won't you feel excited? Yes, there's actually a revolution like this and you will be surprised to know more.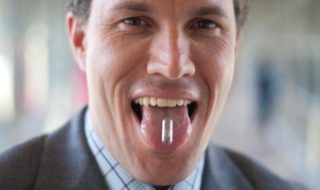 Gone are those days when digestible and edible batteries were just in dreams. Some researchers at US' Carnegie Mellon University have made edible batteries from melanin (Skin pigment) and other parts of skin; a device of 5 milliwatt can be powered and that too for an impressive 18 hours.
Christopher Bettinger leads this team and says these edible batteries don't cause any sort of harm; since human parts are used for the same, medical procedures that are complex in nature, can be conducted with great ease.
Want to know about the creation?
Well, we all must have heard of Melanin. It is a pigment that's found in hair, eyes and skin. It has the capability of absorbing UV rays and protecting us. Moreover, they also have the capability of unbinding as well as binding ions.
With this powerful melanin, edible batteries have been developed. You can consume it and keep it in your body for 18 hours. Iron and copper that are abundant inside the body are used for this creation; it is the melanin pigment that acts as a negative and a positive terminal. Talking about the cathode, 600mg of melanin is used.
Researchers are also testing Pectin, a gelling agent which creates edible batteries.
Drastic change in medical science!
Thanks to these edible batteries that now, a device can be inserted inside the body that reacts perfectly to medical emergencies. These medical emergencies can be observed too; earlier, doctors had to wait for the occurrence but now, things will be changed. A lot of time will be saved and many deaths can be avoided.
For example, vaccine can be released for killing viruses or a life saving drug can be released in the intestine, to save the life of patients. Pacemakers also have batteries but many a times, they are quite toxic. Insulation is needed so that they don't harm the body. Lot of risks and dangers are there due to toxic batteries; the body can be damaged. However, with edible batteries, the risk is really low.
Medical experts also suggest that these batteries can help in treating cancer; in cancer, the time is very important and such batteries work instantly.
This biodegradable battery looks like a capsule and is enclosed in a shell that's made up of gelatin. Good therapies can be delivered for fighting various diseases with good safety and precision. After a person swallows the pill, the battery would come in contact with ions and current flow will be activated.
Filed Under: News
About the Author:
Comments (0)